SS/AMX's FOR SALE:
The following SS/AMX's have been recently advertised as being for sale. If you are sincerely interested in one of these cars, please contact the owner for the current status and specs on the car.
#39 -- Pete's Patriot -- $60,000 (see AMX and Javelin Parts Board for the email address or phone number)
(Car has been sold...)
= = = = = = =
In July 2001 Hemmings:
AMX: 1969, factory super stock, one of 52 built by Hurst for AMC, red, white, blue paint, 200 original miles, all original parts, $55,000. PH 602-243-7154 AZ
= = = = = = =
In August 2001 Hemmings:
AMX: 1969, Super Stock, one of the original 53 ready to run converted by Hurst for American Motors, red/white/blue, the best of the few that have been restored, 390 with crossram, 4-speed, $59,000. PH: 714 325-4490 days or 714-418-0167 nights, CA
= = = = = = =
In October 2001 on Ebay:
#17 McCorkle Car!
(Car #17 has been sold privately since the ebay auction)
= = = = = = =
In December 2001 on http://hemmings.com/
FOR SALE AMC: 1969 SS AMX #32 of only 53 made by AMC. Two owner, very good cond. Hot Rod mag. Rare factory parts. Mostly California car w/emissions exempt status. Excellent original papers.
(Car has been sold...)
= = = = = = =
In January 2002 Hemmings:
AMX: 1969, rare factory Hurst Super Stock, dual crossram 390 race car, 1 of 53 produced, restored, featured in numerous magazines, $49,500 obo. 206-367-7380 or 206-650-4999, Wa.
= = = = = = =
In June 2002 Hemmings:
AMX: 1969, Hurst Super Stock, 1969 AMX dual crossram Super Stock race car, factory built by American Motors, then modified by Hurst Corp, only 52 of these were built, restored and featured in numerous magazines, only serious buyers call 206-367-7380 or 206-650-4999, WA.
= = = = = = =
In January 2003 on the internet
1969 -- Hurst SS (Super Stock) AMX -- Originally non-street legal car. 1 of 52 made by Hurst and AMC for N.H.R.A. Drag Racing. Has roll bar, traction bars, drive shift loop, ram air, rear spoiler, headers & H.O. 390 with 2x4's Less then 4000 miles on straight rust free body. Originally 4 Speed. Currently gloss black, automatic and street legal. Asking 30 thousand.
= = = = = = = =
Email from owner: December 2003
For sale 1969 SS/AMX. this car is partially disassembled and is a project car. I have almost all of the ss only parts. I also have many additional parts I have gathered to restore this car as well as lots of nos parts available at extra cost. There are pics of the car at ssamx website (ssamx.com), car number 40. This is how I bought the car with none of the ss parts and a chevy drive train. The car has not been tubbed and the frame rails have not been moved. It has had some suspension mods, tire clearance and trunk floor sections removed. I have arranged to have the trunk floor fixed and is included with the price. I am asking 26k. I have several digital pics available and can take as many as you can down load.
email or call with questions.
816 796 5841
thanx rick wyman
(Car has been sold...in a few days)

= = = = = = =
In June 2006 on the internet
AMX-1
Stock #: 7071
Engine Size: 390
Transmission: 4 Speed
Color: Red White Blue
Factory Built Hurst Super Stock AMX
National Record Holder in 1970/1971
Super Stock D
This is the Real Deal!
#31 of #52 Ever Built!
CALL TODAY: 1.330.337.5037
http://www.daveysjeeps.com/repairables/7071.html
Discussion on the AMCForums has the asking price in the high 6 figure range
= = = = = = =
In June 2006 on ebay:
1969 American Motors Hurst AMX Super Stock. American Motors jumped into NHRA racing with production of 50 of these Lightweight AMX's. They were built with lightweight components, and configured with the Hi-Po 390 4 speed, with dual carb cross ram set-up. They were built at Hurst Corporation just as another famous car, the Hemi Dart's. This particular AMX S/S was campaigned in the Midwest. It has been fully restored, and has been featured in several magazines with Musclecar Review being the most noteworthy. These AMX Super Stock cars have not fully reached their potential in the Muscle Car market pricing. The most recent sale for one of these was for $150,000. They are still a great value, for being very rare and well known production cars.
http://cgi.ebay.com/ebaymotors/ws/eBayISAPI.dll?ViewItem&rd=1,1&item=4647185932&sspagename=STRK%3AMEWA%3AIT
Sold for $130,100.00
= = = = = = =
In October 2009 on ebay (didn't meet reserve)
For Sale. Genuine Super Stock AMX. Car number 29 in the run.
Verified and listed on the AMX Super Stock Registry.
This car was one of five ordered new by Riker Motors in Los Angeles. It has never been off the West Coast. Completely converted in the winter of 1969 with the AMC Conversion Kit to a 1970. This includes all sheet metal and related and interior. (NOS 1969 wheel is in the car when restored in 2007.) This also includes a 1970 VIN from AMC. This car has been owned and slowly restored to show condition by its only owner other than Riker Motors that it has ever had. It is in Seattle and was finally finished and was driven on the showfield for the AMCRC nationals in Tacoma last summer. Tested also in 3 runs at Bremerton Dragstrip. I will make available all the details and more pictures of this car to serious bidders.
This car is show quality in every respect. If you have ever wanted to own a genuine, original Super Stock AMX--here is your chance. FYI 2 cars are known to have sold recently. One is "The Sheriff of Nottingham" that sold for approx $75,000 with a Breedlove "aero" front-end-in need of a full restoration and the Wentworth and Irwin car in need of resto sold for $60,000. The car offered here has been fully restored. Never tubbed or butchered.
Larry G. Mitchell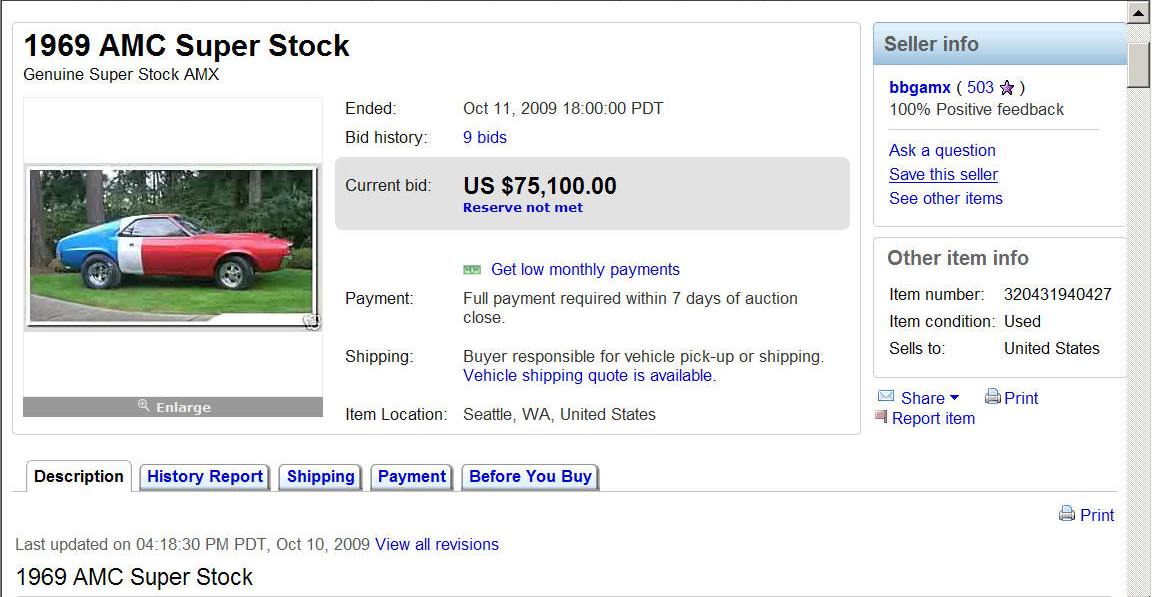 = = = = = = =
In November 2012 on American Motors Forum:
Hurst Super Stock AMX $125,000
Selling my Hurst Super Stock AMX .This is car number 3 according to the registry. The car was known as the Frisbee Automotive Patriot 1, sponsored by Avenue Rambler out of San Francisco. It has been fully restored to it its as raced last, 1970 Model configuration. This car was put on the road in California in April of 1970 after being banned from racing as a 70 model at the 1970 Winter Nationals. Call me @602-738-5196 or e-mail mmiku@msn.com. Please only inquire if you have the ability to purchase the car.
= = = = = =
1969 AMX-1 HURST SS SUPER STOCK RACE CAR
Posted:2012-08-01 09:07:01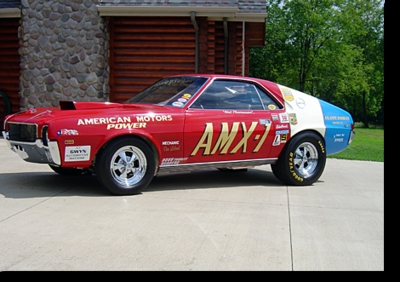 HERE WE HAVE THE BEST HURST SUPER STOCK ON THE PLANET. READY FOR YOUR COLLECTION. THIS WAS 1 OF THE MOST SUCCESSFUL SUPER STOCKS OUT THERE. WE HAVE BOX AFTER BOX OF NOSTALGIC PHOTOGRAPHS, NEWSPAPER ARTICLES/MAGAZINE ARTICLES TO PROVE THAT. THIS CAR IS # 31 OF 52 MADE. THIS CAR IS BEAUTIFUL. CHECK OUT WWW.AMX-1.COM TO SEE SOME OF ITS HISTORY. SERIOUS INQUIRIES ONLY. EMAIL: DL2217@MSN.COM PH: 330-692-2125
= = = = = = =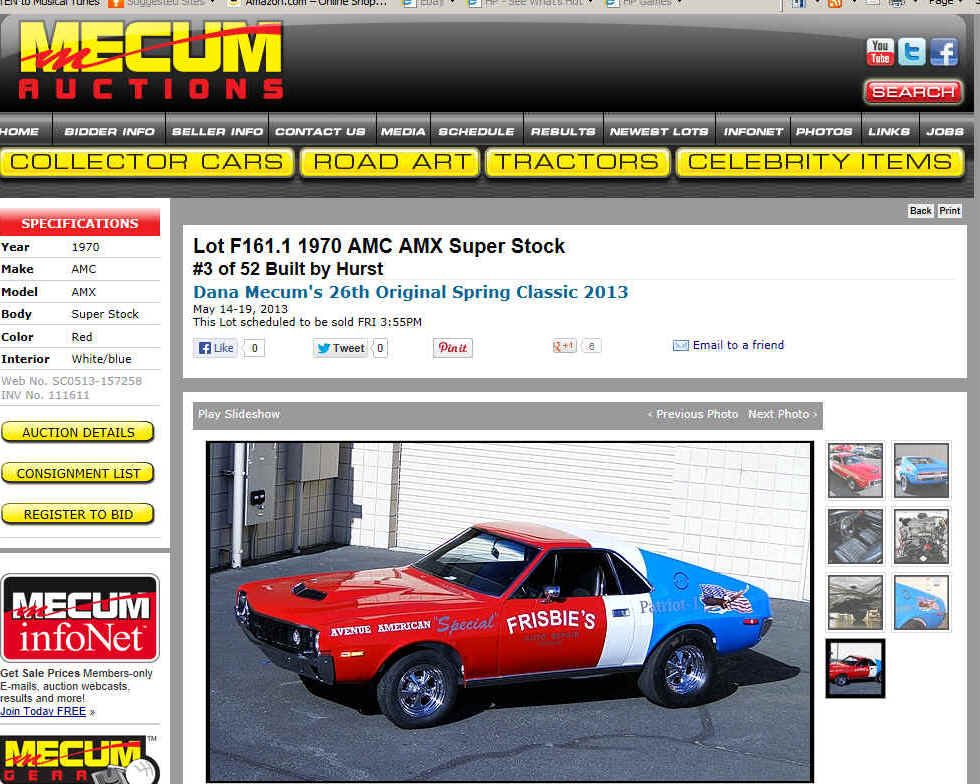 The Frisbie car will be auctioned on May 17, 2013 SS/AMX at MECUM Auctions