Vintage Pictures from Joe Ortega:
Pictures compliments of www.southwestdrags.com/nostalgia/unclesam/unclesam.htm
UNCLE SAM SS/AMX
1 of 52 Production race cars - 390 4 speed
Original Drivers: Tom Shelton & Dennis Kincaid
Owned by Mack Massey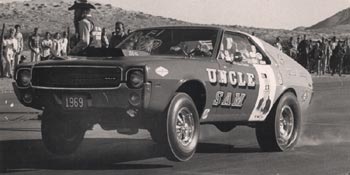 Forgotten Racers from El Paso Texas...
This is just one of the super stock and stock racers to come out of El Paso in the 70's. "Uncle Sam" was a factory ordered SS AMX race car powered by a big block AMC 390 and a 4 Speed. Since it was a factory racer, it had no street accessories to weigh it down. (No heater, radio, etc.)
Uncle Sam was ordered by Mack Massey Jr and is 1 of only 52 AMX SS's produced. Because of production rules of the NHRA at the time, manufactures had to produce at lease 50 units to be legal for competition. (Mack Massey in the classic car salesman jacket standing next to Joe Ortega)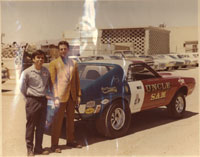 The car's original drivers were Tom Shelton (right picture) and Dennis Kincaid in 1969 thru 1971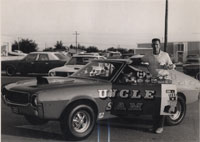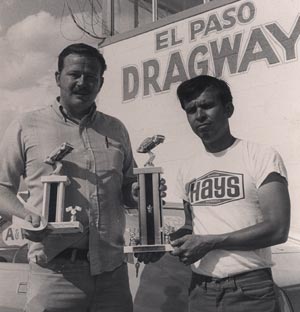 At the old AHRA national in Tucson in 1969 they were the speed record holder.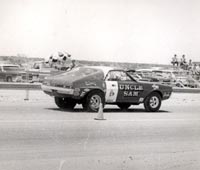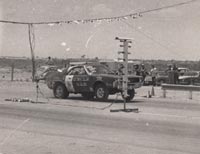 Tom Shelton left in 70 to race a gas dragster with a big injected cubic inch AMC motor. Uncle Sam received a 1970 make over to run in super stock as a 1970. They changed the hood, grill, dash, emblems, and taillights.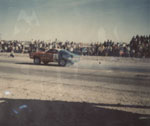 They continued to race in Tucson, Phoenix, Pomona, Carlsbad, Sunland Park, Penwell, Amarillo and around the area. This picture is said to be taken while Ray Griffin owned and raced it. Notice the "UNCLE SAM" lettering is smaller. In 1971 it was purchased by Ray Griffin who raced it and later sold...it's rumored to be in Canada now.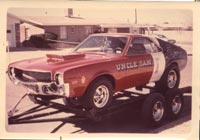 Click links below for additional pictures:
Vintage Pictures Compliments of Joel Carmichael
Vintage Pictures Compliments of Mark Janaky
Vintage Pictures compliments of Eddie Stakes